Are You Keeping Up with The Commodore?

As mentioned in my last post. I have purchased a Commodore 64. The C64 was released in August 1982. It was the best selling model of the 1980's. It had a huge 64KB of RAM and a graphics chip with 16 colours! It really was state of the art. My parent's bought a C64, in 1986, with the intention of using it to manage farm accounts. This was not to be so. It took my Father 4 hours to program the machine to play 'Ba Ba Black Sheep', let alone, create, calculate, manage and save any accounts. With so many failed attempts he gave up and passed the machine onto my brother and I. I don't actually know anyone who used the C64 for anything other than gaming.


This is where my passion for all things ICT initially began. I would spend hours working out how to programme the C64 to do very simple (and at the time, fascinating tasks) I managed to play small monophonic tunes, draw very basic pictures and of course there was the game playing. I find it incredible to think that 20 years later I am now able to do the same tasks and much more from my mobile phone!

With regards to gaming I was an avid user. This, however, is not something that has stayed with me. I am not really very up to date with the latest games consoles (Sony Wee?) With 16 colours the C64 games were just fantastic! 'Hungary Horace', 'Dizzy', 'Wheelies' and 'Road Blasters' to name a few (others not the most PC in this day and age). It gave me a very nostalgic, yet strange, feeling when I set it up last week. Seeing the famous blue C64 screen, holding the 'Run/Stop' and 'shift' buttons simultaneously, waiting in anticipation for the game to load; would it load or would it come up with 'system error'?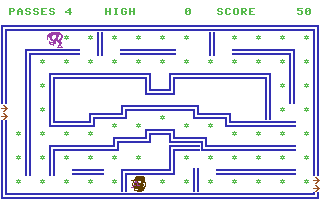 As I asked for my purchase to be delivered to school, I couldn't resist setting it up and letting my own pupils see my new toy. As you may have read in previous posts, my INT 1 Biology class are working on the subject of 'Alcohol and Its Effects'. Under the umbrella of this subtopic is 'Reaction Time'. What better a way to demonstrate reaction time than with a good old 10 minute game of 'Crazy Cars' (This is a game where you have to race around a circuit avoiding other cars and potential hazards, ideal for testing reaction time!).

After overcoming the basic graphics (one boy asking me, 'but where is the car?') the pupils surprisingly got really into the game. They were also very inquisitive as to how the machine worked. (I.e. loading of cassettes and the general setup). I am pleased to announce that my reaction time was not the worst in the class! Though I do have the advantage of several years of C64 experience.

Why am I writing a post about an old computer I ask myself? I don't know really, a trip down memory lane.

The Commodore 64, such a fabulous computer of the past, they have even commissioned a classical orchestra to play the music from the games!